Cowin gov in 2.0 vaccine registration online portal | Covaxin registration | vaccinator app | 18+ vaccine registration| Kids (15-17 yr) vaccine registration
A lot of damage has been done due to the Covid-19 coronavirus pandemic all over the world. We have also seen the coronavirus second wave in India and its effect on the Healthcare system. As of now, more than 400000 people have died due to this pandemic. There is no state in India that is not affected by the coronavirus second wave and its worst effects.
Cowin Vaccine online registration आर्टिकल हिंदी में पढ़े
Cowin.gov.in registration portal
The Indian government is trying hard to vaccinate the maximum possible population of India. Although it's not very easy to vaccinate such a large amount of population which is more than a hundred crores. The Indian government has taken many steps related to vaccination and developed the Cowin online registration portal for vaccines.
Currently, due to the Limited quantity of vaccine doses, the government decided to conduct an 18-plus people vaccine drive through online registration. The government has started to vaccinate 18 plus people all over India from 1st May 2021. Initially, the 18 plus registration was started for only 6 States due to the unavailability of vaccine doses. Now anyone can register on the online Cowin vaccine portal to get a vaccine dose.
As of January 2022 Indian government has vaccinated more than 1 billion people and also started the vaccination of kids in the 15-17 yrs age group.
Current Vaccine Statistics on Cowin.gov.in portal
Please check the current vaccine data as of January 2022.
Vaccine details
Summary
Total Vaccination Doses
Dose 1- 93,69,35,698
Dose 2- 69,76,28,529
Precaution Dose – 99,01,037
Vaccination sites
Government- 81,228
Private- 1,915
Vaccine registration
Age 18-44- 61,44,56,640
Age 45+- 35,90,44,478
Age 15-17 – 4,54,53,037
Category
Male- 83,40,67,834
Female- 79,59,26,269
Vaccine type
Covishield– 1,40,94,26,560
Covaxin- 22,96,53,853
Sputnik V- No data available
Vaccine by age
60+- 23,53,02,283
45 to 60- 38,27,07,980
18 to 44- 97,78,82,905
15 to17 – 4,43,93,768
In this article, we will show you how to register on the online Cowin portal for the vaccine doses.
Cowin vaccine registration benefits
Although a direct walk-in facility is available now for the covid-19 vaccination, there are many benefits of online registration.
After the registration, you can visit the vaccination center as per your preferred time and get vaccinated as per your schedule.
Your schedule data will be available to the government officials and you will get a priority at the vaccination center.
Your vaccination data will be available online and you can check your vaccination details by logging in to the portal.
You can also download your vaccine certificate from your account dashboard page.
You can also help others by booking their vaccination slot.
Online vaccination helps the government to minimize the crowd rush at the vaccination center which is helpful to avoid spreading the virus.
Covin.gov.in portal Highlights
| Particulars | Summary |
| --- | --- |
| Name of the portal | Cowin |
| Current version | 2.0 |
| Developed by | Indian government |
| Developed for | Indian Citizens |
| Started | 16 Jan 2021 |
| Purpose | To provide online vaccination management and database platform |
| Official website | www.cowin.gov.in |
Also check, How to download e EPIC (electronic Voter ID card) from the NVSP portal or new Voter Portal in online mode.
Also check,
Cowin.gov.in vaccine online registration
Please check the complete step-by-step vaccine registration process.
Note: Online registration is not mandatory now and the government has now announced that anyone can get a vaccine by direct walk-in but you can book a slot online at your convenience to avoid the rush and minimize the crowd at the covid-19 vaccination center. Registered members will get priority at the vaccination center.
Documents information required for the online vaccine registration:
People must have a valid mobile number for online registration. registration data will be linked to your mobile number. Please keep any government ID proof from the below list.
Voter ID card
Aadhaar Card
Driving License
PAN Card
Passport
Pension Passbook
NPR smart card
Ration Card with photo
Unique disability ID
Cowin.gov.in vaccine online registration and slot booking process:
Total Time: 10 minutes
Open the official website

First of all, you will have to visit the official website for registration purposes. Open the cowin.gov.in link to open the website on your mobile or computer.

Register using a mobile number

After opening the official website click the Register Members link under the Vaccination services option in the top menu. After clicking this link you will see a registration page (see above image).
Now enter your mobile number in this registration form and click the Get OTP button. You will receive an OTP on your mobile through an SMS.

OTP verification

After clicking the Get OTP button a new screen will appear on your device (as shown above).
Now enter the OTP in the given space and click the Verify & Proceed button.

Add a member for the vaccine appointment

After the OTP verification, you can add a member for the vaccination. You will see a new screen for the member registration (as shown above).
Click the Register Member link to proceed with the vaccine registration. You will see a new member registration form on the next page (as shown below).

Fill out the member registration form

You will have to fill out this registration form. Select which photo ID proof you want to use for the registration purpose and enter the ID number in the next section. After that enter your Name, Gender, and Date of Birth.
Note: Please ensure that all entered details are correct according to the photo ID proof.

After entering all details click the Register button. Your registration has been completed and you can book a vaccine slot.

Schedule your vaccination slot appointment

After the registration, you will see your account information on a new page (as shown above).
You will see your secret code on your account dashboard page. Please note down this secret code.
Note: Please don't disclose your secret code to anyone.

Fix an appointment for the 1st covid vaccine dose: If you are registering the first time then you will see a "Dose 1 appointment not scheduled" message on your dashboard. You can now book your first vaccine dose by clicking the Schedule button.

Fix an appointment for the 2nd vaccine dose:
 If you have already registered on the Cowin portal and got your first vaccine dose then you will see a "Dose 2 Appoint not scheduled" message on your account dashboard page. You can schedule your second dose by clicking the Schedule button. The method for booking the 2nd slot is also similar to the 1st dose booking.

After clicking the Schedule button you will see a vaccine appointment booking page where you can search the vaccination center in two ways.

Search vaccination slot by PIN

Enter the PIN code of your location and click the Search button. The Cowin portal will show you the list of the nearest vaccination centers.

Search vaccination slot by District

Select your State and District and click the Search button. The Cowin portal will show you all available vaccination centers in that district.

Book your vaccination slot

You can search the vaccination centers by using any method. After clicking the Search button you will see a list of different vaccination centers and available slots (as shown above).

In this list you can see all available slots for 15 to 17, 18+, 18 to 44 only, and 45 & above category. This list includes all three Covishield, Covaxin, and Sputnik V including free and paid options.

Note: If you haven't taken the 1st dose then you will see only 1st dose vaccine available at
different vaccination centers and if you have already taken the first shot then you will see only 2nd vaccine slot availability after the search.

You can sort this list by clicking on the Age, Free or Paid, and which vaccine you want to take. You can also check the availability on different dates.

Confirm your appointment

After that, you will see available slots in Green and Yellow colors. Now click your desired vaccination center slot. You will see a new page (as shown above).

Now select your preferred timing and click the Confirm button. Your vaccine appointment has been booked successfully.

Note: Selecting the timing doesn't mean that you will have to visit in that time slot. You can go at any time on that day but visiting the center as early as possible would be beneficial.

Download appointment slip

After the vaccine slot booking, you can download your appointment slip from the official Cowin portal.
Note: If you are taking too much time during the slot booking process then it is possible that the system will log you out from the portal. In that case, you will have to log in again by using the same mobile number.

After login in again you will see a link to the slot appointment slip on your account page (as shown above). Click on this appointment slip download link. Your appointment slip PDF file will be downloaded on your device and you can take a printout of this slip.

Verify all details

An appointment slip sample is given above. Please have a look and verify all details.

Note: Please carry your appointment slip and the ID card which you have provided during the registration process along with you to the vaccination center.

Now after booking a vaccine slot for one member you can add another member and book a vaccine slot for that.
Delhi CM launched Covid-19 parivar aarthik sahayata yojana. Check how to apply
Cowin app download
The Cowin app is not available currently. Government just made an online portal, there is no Cowin app available to download. Cowin vaccinator app is available on the Google Play Store. This app is not for the general public. Only the government officials who have been given the task to verify the vaccination data can download this app.
How to download the vaccinator app:
1- Open the official website at cowin.gov.in on your mobile browser.
2- now Navigate to platforms > vaccinator from the top menu. The vaccinator app login screen will appear on the new page. You will see an Android app download page at the bottom of the page.
3- click this app download link. If this link is not working then open the Google Play Store app on your mobile and search "Vaccinator app". You will see a vaccinator app link.
4- Install this app by clicking the Install button. After installing the app you will have to register yourself the first time.
Covid vaccine registration on Umang App
You can also register yourself on the Umang app and book a vaccine slot.
Please follow The below steps to download the Umang app and book your Cowin vaccine slot.
Step 1: Open the official website umang.gov.in. On the homepage, you will see different apps for android and iPhone.
Step 2: click the appropriate link to download the mobile app. After downloading open the mobile app and register yourself using your mobile number.
Step 3: After the registration click the all services link at the bottom of the app. You will see the all available services page.
Step 4: now search for co-win in the search bar and open the Co-win link. On this page, you can register yourself on the Co-win portal through the Umang app.
Step 5: After the registration, search for the vaccination center and book your slot.
Covid vaccine registration on Aarogya Setu app
You can also book your vaccine slot through the Aarogya Setu app. Please check the complete process given below.
Step 1: Open the Google play store app on your mobile and search for Aarogya Setu. After this search, you will see an Aarogya Setu app link.
Step 2: Click this link and download the Aarogya Setu mobile app.
Step 3: now open the Arogya Setu app and log in by using your mobile number.
Step 4: After the login, click the vaccination link available in the app. Provide your mobile number and enter the OTP.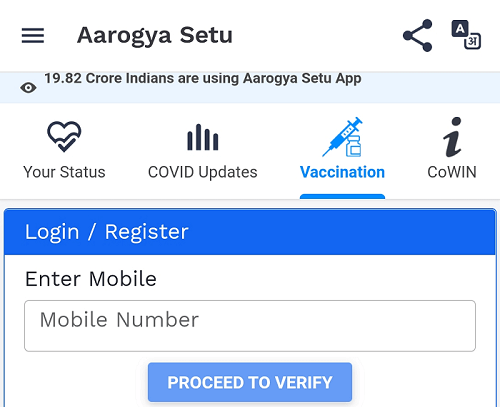 Step 5: After that, you can book your vaccination slot. You will get the option to search the vaccination slot through PIN or district. Arogya Setu app is integrated with the Cowin portal and your data will be synced on both platforms.
Covid vaccine registration on eDistrict portal
Uttar Pradesh government has started the covid vaccine online registration on the eDistrict UP portal through Common Service Centers (CSCs) located at multiple places in a district.
You can visit the nearest Common Service Center along with the required documents as mentioned in this article to register yourself and book an online slot. This service is completely free of cost. You may check eDistrict UP article for more information and to check your nearest CSC center.
The gap between 1st and 2nd vaccine dose
As per the latest recommendation by the Ministry of Health second vaccine dose should be taken after the below-mentioned days for different vaccines.
| Vaccine | 2nd dose gap after 1st dose |
| --- | --- |
| Covishield | 84 to 112 days |
| Covaxin | 28 to 42 days |
| Sputnik V | 21 to 90 days |
Cowin.gov.in Vaccination statistics (State-wise)
Please check the state-wise vaccination data as of January 2022.
| Sl. No. | State Name | 1st Dose | 2nd Dose | Precaution Dose | Total |
| --- | --- | --- | --- | --- | --- |
| 1 | Andaman and Nicobar Islands | 3,26,477 | 3,00,014 | 4,520 | 6,31,011 |
| 2 | Andhra Pradesh | 4,27,86,933 | 3,59,62,899 | 7,13,532 | 7,94,63,364 |
| 3 | Arunachal Pradesh | 8,72,374 | 6,77,841 | 14,706 | 15,64,921 |
| 4 | Assam | 2,31,24,355 | 1,78,16,319 | 1,36,495 | 4,10,77,169 |
| 5 | Bihar | 6,40,09,693 | 4,67,89,866 | 4,36,146 | 11,12,35,705 |
| 6 | Chandigarh | 11,07,204 | 8,44,100 | 13,387 | 19,64,691 |
| 7 | Chhattisgarh | 93,69,35,698 | 69,76,28,529 | 99,01,037 | 1,64,44,65,264 |
| 8 | Dadra and Nagar Haveli | 4,40,739 | 3,11,908 | 2,008 | 7,54,655 |
| 9 | Daman and Diu | 3,08,774 | 2,49,747 | 2,686 | 5,61,207 |
| 10 | Delhi | 1,69,32,532 | 1,22,41,173 | 2,48,434 | 2,94,22,139 |
| 11 | Goa | 13,78,727 | 11,51,713 | 18,097 | 25,48,537 |
| 12 | Gujarat | 5,09,95,667 | 4,50,41,579 | 11,69,960 | 9,72,07,206 |
| 13 | Haryana | 2,23,92,733 | 1,64,95,900 | 1,26,547 | 3,90,15,180 |
| 14 | Himachal Pradesh | 62,74,433 | 55,48,136 | 80,034 | 1,19,02,603 |
| 15 | Jammu & Kashmir | 1,04,26,652 | 97,61,892 | 1,53,441 | 2,03,41,985 |
| 16 | Jharkhand | 2,13,93,091 | 1,28,35,794 | 1,25,511 | 3,43,54,396 |
| 17 | Karnataka | 5,14,20,982 | 4,24,68,369 | 6,26,237 | 9,45,15,588 |
| 18 | Kerala | 2,78,50,266 | 2,24,07,180 | 4,78,160 | 5,07,35,606 |
| 19 | Ladakh | 2,25,340 | 1,77,329 | 12,923 | 4,15,592 |
| 20 | Lakshadeep | 59,374 | 53,622 | 1,722 | 1,14,718 |
| 21 | Madhya Pradesh | 5,72,14,774 | 5,12,30,484 | 6,00,290 | 10,90,45,548 |
| 22 | Maharashtra | 8,59,99,608 | 6,05,22,766 | 7,81,205 | 14,73,03,579 |
| 23 | Manipur | 14,05,888 | 10,39,637 | 22,282 | 24,67,807 |
| 24 | Meghalaya | 13,27,800 | 9,28,289 | 17,024 | 22,73,113 |
| 25 | Mizoram | 8,07,070 | 6,09,236 | 17,453 | 14,33,759 |
| 26 | Nagaland | 8,39,307 | 6,08,608 | 10,360 | 14,58,275 |
| 27 | Odisha | 3,18,69,917 | 2,41,90,314 | 4,12,592 | 5,64,72,823 |
| 28 | Puducherry | 9,19,908 | 6,03,361 | 6,763 | 15,30,032 |
| 29 | Punjab | 1,93,29,881 | 1,27,07,887 | 1,33,292 | 3,21,71,060 |
| 30 | Rajasthan | 5,21,19,604 | 3,92,32,747 | 7,60,550 | 9,21,12,901 |
| 31 | Sikkim | 5,58,052 | 4,89,560 | 14,878 | 10,62,490 |
| 32 | Tamil Nadu | 5,42,49,734 | 3,82,20,237 | 2,82,834 | 9,27,52,805 |
| 33 | Telangana | 3,00,85,940 | 2,30,41,807 | 2,55,895 | 5,33,83,642 |
| 34 | Tripura | 27,37,387 | 21,63,102 | 38,003 | 49,38,492 |
| 35 | Uttar Pradesh | 15,45,20,430 | 9,95,61,882 | 10,50,400 | 25,51,32,712 |
| 36 | Uttarakhand | 84,19,565 | 69,39,257 | 1,78,902 | 1,55,37,724 |
| 37 | West Bengal | 6,91,40,068 | 5,01,53,718 | 7,48,977 | 12,00,42,763 |
Helpline details
For any kind of information or help, please contact the below-given helpline numbers.
| | |
| --- | --- |
| Toll-free no. | +91-11-23978046 or 1075 |
| Child | 1098 |
| Mental Health | 08046110007 |
| Senior Citizens | 14567 |
| NCW | 7827170170 |
FAQ
How many members I can add?
Only four members are allowed to add through one mobile number registration so you can book the vaccine slot of 4 members. If you want to book more slots then you will have to register from another mobile number.
What is the Abhibhavak special vaccination center?
Abhibhavak special vaccination centers have been started by the Uttar Pradesh government. These vaccination centers are specific to the parents of children below 12 years of age. Abhibhavak special centers are operational from June 1, 2021.
Which vaccines are available through Cowin?
Currently, three vaccines Covishield, Covaxin, and Sputnik V are available to book through the online portal subject to availability at the vaccination center. In the future, more vaccines will be added for booking purposes.
Moderna, Pfizer, Biological e, and Zydus Cadila vaccines are in the pipeline and will be added to the Cowin portal after approval from the Drugs Controller General of India (DCGI). DCGI has already approved the Moderna vaccine.
Apart from this Bharat Biotech and Zydus Cadila are also conducting trials for vaccines for kids and these vaccines may be available in the last quarter of 2021.
Can I reschedule my vaccination appointment?
Yes, If you are not able to visit the vaccination center as per your schedule or you want to change your vaccine type and vaccination center then you can reschedule your appointment.
To reschedule your appointment log in by using the same mobile number and click the reschedule link available on your booking detail page. After that, you can follow the same slot booking process which you have used to book the previous vaccine slot.
I am residing in a village and don't have a smartphone or internet facility?
For the people residing in a village or in any area where the internet facility and smartphones are not available, the government is providing free vaccination doorstep services through the health care workers at the block level.
These healthcare workers visit villages and vaccinate the people. There is no need to book any online vaccine appointment.
What information I will get when booking the online slot?
People will see the below-mention information on the slot booking page.
Vaccine type
Age group
Free and Paid vaccine
Date
Center name
Availability through Red, Green, and Yellow colors.
What is a Precaution Dose?
Precautions doses are also available now for Indian citizens. If you are a Health worker, Frontline worker, or a Senior Citizen (60+ yr) then you can book your precaution covid dose slot online at the Cowin portal. A walk-in facility is also available if you are not able to book any slot online.
Also check,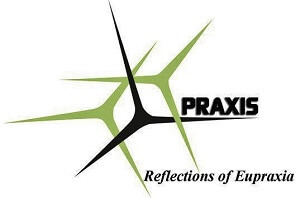 The Editorial Staff at cettest.org is a team of experts from Praxis Consultants, a recruitment agency. Having 10+ years of recruitment experience in Finance, Banking, Manufacturing, media, etc industries for reputed companies and MNCs leads us to share useful information with users in an easy format. About Us LinkedIn Facebook Website