Check all details about the Punjab National Bank net banking, Online account opening for internet banking, How to log in and register yourself online for Mobile banking, and other important information.
We will share all details and updated step-by-step procedures so please stay with us and check this article to get all information you are looking for.
PNB Bank Online Net Banking
Punjab National Bank is offering various services to its customers in digital mode. Internet Banking is one of those types of services which is very useful and customers are taking full advantage by accessing all-important online banking features.
One must have to register himself to use the internet banking facility. Only after the registration customer will be able to log in on the PNB NET portal.
Corporate, Retail, Mobile Internet banking registration
All customers can register themselves by using two methods.
i-Registration by visiting bank branch:
Internet banking registration process can be completed by visiting any bank branch. You will have to fill the net banking registration form and submit this form along with the necessary documents. Your internet banking will be activated after the verification of all documents.
ii-Online registration:
An online registration facility is also available if you don't want to visit the bank branch. You must have below- mentioned information/ documents to start the online registration process.
Note: You can register for retail corporate internet banking and mobile banking through a single process if you want.
PNB online internet banking registration process:
Total Time: 10 minutes
Arrange necessary Information/Documents

Before proceeding with the registration process please ensure that you have the below-mentioned information which will be used further.

Information/Documents required for online net banking registration:
i-You must have an account with Punjab National Bank
ii-The Mobile number must be registered with the bank and activated to receive SMS.
iii-Keep your passbook to enter your account number
iv-Debit Card and ATM PIN linked with PNB Bank account

Visit the official website

Open the Punjab National Bank website https://www.pnbindia.in/ and click the Internet Banking link located at the top right corner. On the next page, click the Retail internet banking link. You will see a login form on the next page. Alternatively, you can directly open the PNB net banking website at www.netpnb.com and click the Retail net banking link.

Open new user registration form

Now click the New User link located below the login form.
On the next page, A new user registration form will appear. Now enter your account number and Date of Birth or PAN Card number.

After that choose the type of internet banking facility you want to avail of from the below options.
i-Register for Internet banking
ii-Register for Mobile Banking
iii-Registration for Both Internet & Mobile Banking

After that click the Verify button located below the registration form.

Select type of facility and complete OTP verification

After clicking the verify button you will proceed to step 2 of the PNB online user registration.

Now select the type of facility from 'View only' and 'View and Transaction both'. Enter the OTP received on your registered mobile number and click the Continue button.

Verify your Debit Card

On the next page, you will have to verify your Debit card. Enter your Debit Card number and ATM PIN and click the Continue button.

Create password

On the next page, you will have to create your net banking password. Type your login password twice. If you have chosen the transaction facility also then type the transaction password twice. After that accept the terms & conditions by selecting the check box.

Complete the registration process

After completing all steps click the Complete Registration button. You will see the online registration success message and your user ID on the next page. Please note down your user ID.
Note: After the registration process the Bank will take 24 to 48 hours to update account-related data and registration information in the system so it is advised to log in after 48 hours.
Also check,
How to log in?
Once you have registered yourself for the internet banking facility you can log in online and access the all available features.
PNB Retail internet banking login:
Retail customers can log in online by following the below-given steps.
1-Open the PNB NET website at https://www.netpnb.com/ and click the Retail Internet Banking link.
2-You will see a login form on the next page.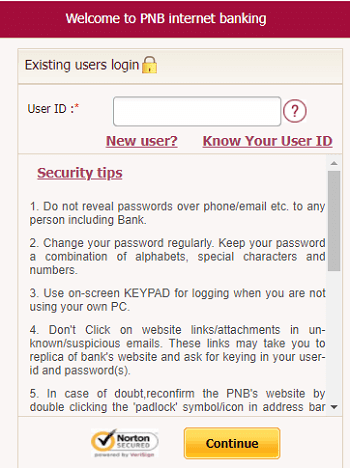 3-Enter your user ID and click the Continue button. On the next page, you will see a password field (as shown below).
4-Enter your password and click the login button. On the next screen enter the OTP received on your mobile number. First-time users will have to complete some additional steps such as security questions.
PNB Corporate internet banking login:
If you have registered as a corporate user then you can log in with the help of the below steps.
1-Open the internet banking website and click the Corporate Internet banking link.
2-On the next page, you will see a login form for the corporate customers.
3-In this login form enter your Corporate ID, User ID, and click the Continue button.
4-On the next page, you will have to enter your password.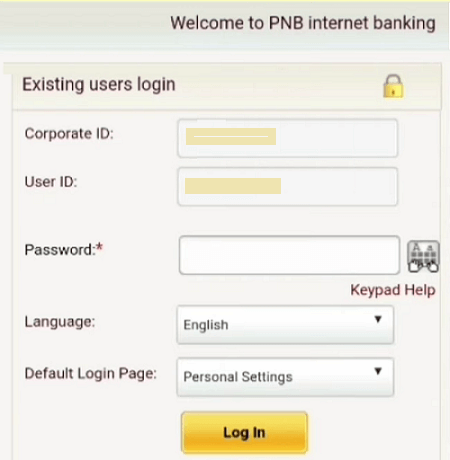 Your corporate ID and user id will be automatically filled. Now enter your password, choose your preferred language, select the default login page.
5-After that, click the login button.
Note: If you are logging in the first time then you will have to complete some additional steps such as creating security questions and answers, choosing your avatar, etc.
Also check,
PNB Mobile banking
Punjab National Bank mobile banking app is a convenient and easy way to access various banking services through a smartphone. There are many mobile apps developed by the Punjab National Bank and all users can download them. Some important apps are listed below.
PNB Verify
mPassBook
PNB ONE
PNB We Care
PNB GENIE
PNB Financial Literacy
Mosambee PNB
PNB Bharat QR Merchant
BHIM AADHAAR PNB
Punjab National Bank has also released a mobile app 'PNB ONE' which is a Unified Mobile Banking Application having all functionalities and features similar to internet banking. All customers can use the pnb internet banking app anytime from their smartphone and access all services online.
Download PNB ONE Mobile app:
All customers can download the PNB One mobile app from the official website by following the below steps.
1-Open the official website and click the PNB ONE link under the e-services menu item. Alternatively, click the Mobile banking apps link available on the right side and again click the PNB one app link.
2-On the next screen you will see the app download links.
3-If you are an android user you can click the Download from play store link and if you are an ios user you can click the Download from App store link.
4-After that you will see an app listing page on google play or the app store. Now Install the app on your smartphone.
PNB One mobile banking registration:
The mobile banking registration process is similar to the above-listed PNB e-banking website registration process. Customers can also register themselves from the mobile app.
PNB ONE login:
After the registration, customers can open the app and log in by using their user id and password. After first-time registration customers can use the below steps.
Open the app and enter you user ID and click the Sign In link.
On the next screen, enter the OTP received on your registered mobile number and click the Continue button.
After that, Create a four digit MPIN and click the Submit button.
On the next screen you will see a success message. Now click the Sign In button and enter your created M-PIN to login. After the verification you will see your mobile app dashboard including all available services.
Now you can log in every time by just entering your MPIN which provides an extra security layer along with the biometric authentication.
How to reset PNB One password:
In case you forgot your password then you can easily reset it through the mobile app.
Open the mobile app and click the Trouble Sign in link.
After that click the Forgot password link and enter your user ID.
On the next screen authenticate yourself by entering your account number, debit card number, ATM PIN.
After the verification set a new login and transaction password.
PNB ONE mobile banking features:
After the successful login customers can use the below-mentioned services and features available through the mobile app.
Trnasfer funds through NEFT, IMPS, RTGS
Add and manage beneficiary
Open and close a fixed deposite account
Invest in mutual funds, Insurance, other schemes.
Activate deactivate debit card
Apply for a credit card
Pay credit car bill
UPI and Bharat QR code facility for online payment
Recharge and bill pay online for different products, services
View and download account statement pdf
File an online complaint View passbook through mpassbook facility
PNB Customer Care number
For any type of query or help, you may call the 24×7 helpline number. You may also send an email at the below-mentioned Customer Care email id.
Important links