Check all details about the new HRMS portal for the current and retired employees of the Punjab National Bank. Check all important details and features and services it offers to its employees across India.
In this article, we will share what is HRMS Punjab National Bank portal, how to access different services, and what is the objectives and benefits of this portal.
What is the PNB HRMS portal?
PNB HRMS or Punjab National Bank HRMS portal is developed by the Punjab National Bank to help their employees by providing all essential services and important facilities online. All employees can access these services through the online portal and Android app.
Punjab National Bank has also released the latest version (2.0) which is an upgraded version of their HRMS system and provides some additional functionality and services to their employees. HRMS PNB (2.0): was made Live on 28.02.2021 so that all employees can use the latest portal and app.
This is a great step to facilitate the best HR practices of the Bank and support the digital India campaign.
Highlights
| Particulars | Summary |
| --- | --- |
| Name of the portal | PNB HRMS |
| Latest version | 2.0 |
| First implemented in | 2016 |
| HRMS 2.0 launch date | 28th February 2021 |
| Purpose | To provide a complete HRMS system |
| Beneficiary | All employees of Punjab National Bank |
| Official website | www.pnbnet.net.in |
Objective and benefits:
The main objective to develop this portal is to implement a dedicated HRMS system for all employees of the Punjab National Bank so that the employees can use all available services online.
Now employees can take the benefits of fast access of all services which ultimately saves employees time.
It also helps in improving employees productivity by streamline all services.
Now employees can manage almost all tasks with the use of the mobile app and there is no need to visit different offices.
All important data and MIS reports are also accessible through the portal.
Salary processing task have been automated and employees get the salary on time every month.
Also check,
PNB Parivar HRMS login
If an employee wants to use any available service online such as apply for leave or download a salary slip then the first step is to log in on the HRMS system. Please check the login process below.
Step 1:Open the official portal at pnbnet.net.in. You will see the Punjab National Bank HRMS home page on the screen (as shown below).

Step 2: On this page click the HRMS link to open the HRMS login page. A new login form will appear in a new window (as shown below).
Step 3: Now fill in your user ID, Password, Captcha code and click the Validate link. You have successfully logged in to the HRMS portal.
Also check,
Employee self-service module
An employee self-service module has also been integrated with the PNB HRMS2 system which provides important facilities to the employees. After login on to the portal employees will see their self-service page.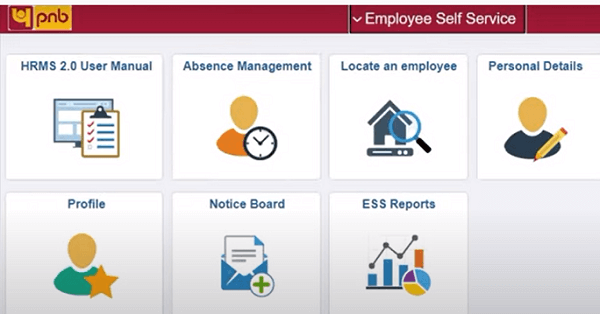 Services are available on the self-service link on the right side of the page.
Assets & liabilities
Biodata
Covid contribution
Leave fare consession/ TA-DA
PAF
Pension management
Promotion
Provident fund
Salary & TDS related details
Staff welfare
Transfer
Personal information
Payroll and compensation
Learning and development
Apply for NOC outside
HRMS user manual
Also check,
Now employees can check their salary-related data, and submit attendance, leave, performance appraisal-related information online. Employees can also apply for reimbursement for different expenditures done by them such as petrol reimbursement. All services can be accessed online by using the user id and password.
Under the staff welfare option, employees can apply for the below types of reimbursements.
Covid vaccination claim
Telephone reimbursement
Health checkup (annually)
Purchase stationary item
Fuel reimbursement
Newspaper undertaking
Working on sunday/ Holiday
Briefcase expenses
Entertainment expenses
Cleansing expenses
PL encashment (annual), etc
How to apply for leave on the portal?
All employees can apply for a new leave through the Absence management link available on the dashboard page. You may follow the below-given process.
Open the official portal and login by using your user id and password.
Once you see your self service dashboard then click the Absence management link.
After that you will find three options

Absense request
View request
Absence balances

Now click the Absence request link to apply for a new leave.
Fill in all required details such as leave type, duration, address, etc and submit the leave request. Your leave request have been submitted.
HRMS PNB Payroll system
This portal was launched to provide a payroll management system to manage salary-related information. It also provides employee management features. Through a centralized payroll processing system salary management can be easily accomplished through a centralized team working at the corporate office. With the help of this dedicated payroll management module, employee payslips are generated automatically by collecting important data through an automated online process and applying applicable deductions.
Other features:
Apart from the Payroll management feature PNB HRMS also provides other important services such as.
Attendance management
Salary slip download
Performance Appraisal
Human Resource Management Information System
Training Management
Employee Promotion
Employee recruitment
Employee Self-Service and Absence Management.
PNB Parivar app
An android app is also available on the Google play store which provides all employee-centric services. Employees can download this app easily by using the below-given process.
Step 1: Open the google play store app on your smartphone and search for 'PNB Parivar' in the search bar. You will see some apps related to your search.
Step 2: Now download the official app which looks similar to the below-given image.
Step 3: After identifying the official app just click the Install button and the app will be downloaded on your mobile phone.
PNB Parivar app features and services:
This app provides the below-mentioned online services to the employees.
Basic information
View your attendance
Holiday home
View undertaking
Leave register
Locate an employee
IT register
Provident fund
Salary slip
e-circular
In the leave register, option employees can check the information related to the leave balance, type of leave, leave request, etc. In the view attendance employees can check the date-wise In time and Out time of the office. In the e-circulars section, employees can check the different types of new circulars issued by the bank such as GIST circular, Internal circulars, policy circulars, GIST of RBI circulars, etc.
How to apply for leave through the mobile app?
Now employees can easily apply for leave online through the mobile app.
Open the PNB Parivar app and search for the leave module.
Now in the leave section click the apply leave link.
Enter all required details such as leave type and date.
Finally submit your leave application.
Leae will be granted after the necessary approval.
Also check,
Contact details
PNB – HRMS Division,
Plot No. 4, Sector 10, Dwarka,
New Delhi – 110075
Contact No.: 011-28075196 / 97