Sakshi news is a Telugu language newspaper published daily. Jagati Publication will handle all the publication processes in 23 editions. It is very famous and Andhra Pradesh and Telangana region and now covering different metro cities also such as Delhi, Bangalore, Chennai, etc.
Sakshi epaper editions
There are four main editions mentioned below.
Andhra Pradesh
Telangana
Hyderabad Main
Sakshi Plus
These main editions are the most important ones and are covered daily with the inclusion of the latest news of Andhra Pradesh and Telangana state.
Further, there are other editions for the Districts of Andhra Pradesh and Telangana.
Andhra Pradesh District editions:
Anantapur
Chittoor
East Godavari
Guntur
Krishna
Kurnool
Prakasam
SPSR Nellore
Srikakulam
Vijayanagaram
Visakhapatnam
West Godavari
YSR Kadapa
Telangana District editions:
Adilabad
Hanamakonda
Hyderabad
Karimnagar
Khammam
Mahabubnagar
Medak
Nalgonda
Nizamabad
Ranga Reddy
Bhadradri
Hanamakonda Constituencies
Hanamakonda
Jagtial
Jangaon
Jayashankar
Jogulamba
Kamareddy
Komaram bheem
Mahabubabad
Mancherial
Medchal
Mulugu
Nagarkurnool
Narayanpet
Nirmal
Peddapalli
Rajanna
Sangareddy
Siddipet
Suryapet
Vikarabad
Wanaparthy
Warangal
Yadadri
Other states editions:
Apart from the Andhra Pradesh and Telangana region Sakshi newspaper also covers other cities mentioned below.
Karnataka state editions – There are two Karnataka editions with the name of Bangalore Main and Karnataka.
Chennai state editions – There are two editions specifically published for Chennai region with the name of Chennai City and Chennai Main.
Other cities editions – Some other cities are also covered through the city based editions having name Delhi, Maharashtra, and Odisha.
How to read Sakshi epaper district edition?
The news agency has provided the facility to read news online in a PDF file format. You can choose the news edition as per your district. Please check the below steps to read the news online.
Step 1: Open the official website https://epaper.sakshi.com/.
Step 2: Now on the home page you will see a list of main editions on the top and districts editions below that.
Step 3: Now if you want to read any district edition then just click that link. A new window will appear on the next screen including the epaper of that district. For example, if you click the Anantapur district edition then you will see a new window including three different editions for Anantapur districts.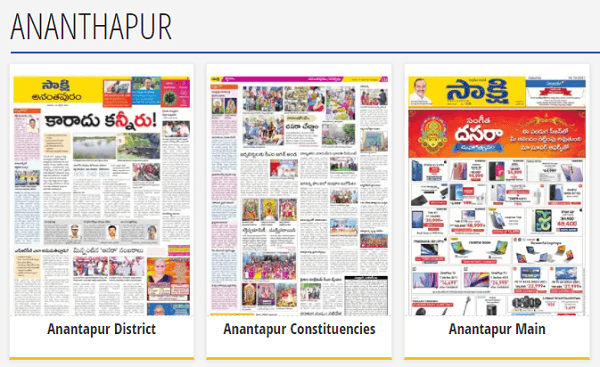 Step 4: Now click on any edition from the list to read online. For example, if you click the Anantapur Main edition then the epaper will load on the next screen (as shown below).
Step 5: Now you can start reading the online epaper. You will get some options on the top side such as:
You can go to a perticular page by entering the page number.
You can also click the page number on the left side to read that page.
You can also use the page zoom facility.
There is a dual page option also available which enables two page simultaneously on the screen.
You may use different options as per your requirement.
How to read the main editions?
Main editions are located at the beginning of the web page. you can start reading the main editions through the below steps.
1-Open the official website.
2-Click on any main edition.
3-The main edition epaper will load on the next screen and you can start reading that.
How to read the Sakshi Plus edition?
Sakshi Plus is a special edition and can only be read after the login on the website. After the login, Readers will get personalized news and special features designed for the subscribers only. Apart from the personalized news subscribers will also get special gifts through free ebook PDFs directly in their email.
Step 1: Click the Sakshi Plus link on the homepage.
Step 2: On the next page you will see a login window where you can log in by using your Facebook or Google account. You may choose any one method.
Step 3: After the login, you will have to again click on the Sakshi Plus link. You will have to provide the below information
Name
Mobile number
Location
Gift option
You will have to choose any one gift option from the below list.
Kathalu
Mahabharata Patralu
JEE Main
General studies
SSC Model papers
Kids stories
Crime stories
Youth songs special 2000-2018
Yoga special
Vantinti Arogyam
Telugu special
Sweet Pickles special
Millet recipes special
Biodiversity special
Inti panta special
Favourite songs
Old movies special
Step 4: After that click the Submit button. You will get an email. Now again click the Sakshi Plus link to read the Sakshi Plus edition. This time the epaper will load on the next screen.
Now after the login you will see a home and district link on the top bar of the website. If you click the edition link then a new window including all editions will appear on the screen (as shown below)
Now you can easily switch between different editions with just a click on that edition.
Sakshi epaper magazines
Apart from the daily epaper, Sakshi media also publishes some magazines listed below. You can also read these magazines online for free.
Funday
Pellichoopulu
Sakshi Calendar
AP Bhavitha
AP Special Calendar
TG Bhavitha
Sakshi Epaper mobile app
An android app is also available on the Google Play store which provides a seamless and fast experience to all readers. All readers can download this app easily on their mobile phones. Please follow the below steps to download the Android app.
1-Open the Google Play Store app on your smartphone.
2-Now search for "Sakshi epaper" in the search bar. You will get the official mobile app listing on the play store.
3-Now you will have to click the Install button to download this app on your smartphone.
4-After downloading finished you can open the app and start reading today and previous news online.
Sakshi news vacancies
If you want to be a part of India's leading Telugu newspaper then you may apply for the current open positions. You may check the current vacancies by visiting the https://www.sakshi.com/careers link
You may share your resume to [email protected] (or) WhatsApp to 90100 07856 mentioning the role on the subject line.
Current open positions: Currently Sakshi media is hiring for the below mentioned roles. You may apply for any position which is relevant to your work experience.
Executive – Events
SEO Executive (Reports & QA)
PHP Developer
Sr Executive / Asst Manager (TV) Advt Sales
SAP Developer
Executive Secretary
AGM / Sr Manager in Events (TV)
Sr. Officer-Digital Sales