Now all subscribers can check the total number of SIM Cards issued in their name. Dot has launched a new portal to help all subscribers in India secure their personal interests and prevent any fraudulent activity carried out on their sim cards.
What is Tafcop portal?
Department of Telecommunications (DoT) has launched an online portal "Telecom Analytics for Fraud management and Consumer Protection (TAF-COP)". This portal aims to prevent fraud activities and secure consumer information. This portal is a part of the DGTelecom (Director General Telecom) and provides telecom analytics services online through the portal where consumers can check the total number of mobile connections currently working on his/her name and linked with the Aadhaar Card.
As per the existing guidelines, a subscriber can apply for a maximum of nine mobile connections in his/her name.
There are many facilities provided through this portal which are mentioned below.
If a subscriber is having more than nine connections in his/her name he will get an SMS through the portal.
After getting the intimation of more than 9 connections through an SMS all subscribers can take necessary action by logging in on the portal. Once a subscriber send a request online a "Ticket ID Ref No" will be generated which can be used to check the status.
Subscribers can also check the status of their request they have made after login through the "request status" facility available on the portal. A "Ticket ID Ref No" will require for that.
Sometimes People forget that they have issued any mobile number a long time back which they are not using now so customers now get the facility to deactivate or block that number.
Also check,
Highlights
| Particulars | Summary |
| --- | --- |
| Name of the portal | Telecom Analytics for Fraud management and Consumer Protection |
| Acronym | TAF-COP |
| Department | Department of Telecommunication, Government of India |
| Beneficiary | All mobile subscribers in India |
| Purpose | To provide a mobile number tracking and Fraud analytics facility |
| Official website | tafcop.dgtelecom.gov.in |
Check online on TAFCOP portal?
If you want to check the total mobile number activated and linked with your Aadhaar Card then you can do this after the TAFCOP portal login. Check the steps given below.
Note: Currently this facility is available only to Telangana and Andhra Pradesh Consumers as written on the portal but other state consumers can also check the details of all sim cards activated on their name.
Step 1: Open the official portal at https://tafcop.dgtelecom.gov.in/
Step 2: After clicking this link you will be redirected to the home page of the TAFCOP portal where you will see a box to enter the mobile number (as shown below).
Step 3: Now to check the details of all sim cards issued and linked with your Aadhar Card just enter any one mobile number which you have and click the Request OTP button. You will see a new OTP screen (as shown below).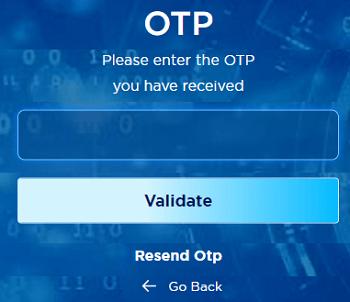 Step 4: Now enter the OTP which you have received on your mobile in the given space and hit the Validate button.
Note: If you don,t receive any OTP then you may click the Resend OTP link.
Step 5: After the OTP verification you will be logged in to the portal where you will see a list of mobile sim cards issued on your Aadhaar card. Since all mobile numbers are linked with identity proof so this list will include all mobile connections issued against your Aadhar Card or any other ID proof you have used.
You will see a list as shown below.

How to report a mobile number:
Now you got a list of all mobile numbers, you can easily identify any suspicious number which you think is not issued by your consent. After identifying that number just select the check box before that mobile number and also select any one option given below.
This is not my number
Required
Not required
If this number is not issued by you you may select This is not my number, If you don't need that number you may select the Not required option. After selecting any one option, click the Report link given below. Your request will be submitted successfully to the department of telecommunication and DOT will order the operator to block or deactivate that number.
You will also get a request reference ID which you can note down somewhere for future purposes.
Note: You don't need to report anything for that number which you are currently using. If you are using a corporate mobile connection then it is possible that you will get a very long list of all corporate mobile connections working on any company ID. In that case company's officials will have to identify the mobile numbers.
How to check the status of your report request?
If you have send any request for any mobile number which you don't require or don't remember then you can check the current status of your request with the help of the below steps.
1-Open the official website https://tafcop.dgtelecom.gov.in/ and login through the OTP verification method.
2- After logging in on the portal you will see a request tracking box (as shown below).
3- Now you will have to enter your Ticket Ref ID which you got when you submitted your request.
4- After that click the Track button. Your current status will be shown on the screen.
Dot has already released the guidelines on Customer Acquisition and the primary responsibility of handling the Customer Acquisition Form (CAF) lies with the service providers. As per the official guidelines, an operator can not issue more than nine mobile connections in a Subscriber's name –
Also check,
FAQs
Is Tafcop a genuine website or a fake website?
Tafcop portal is a government of India website which comes under the Department of Telecom and is directly managed by the Director General Telecom. As this website is using a gov.in domain extension which is issued only for the government websites in India so it is definitely a real and genuine website.
How do I find out how many mobile numbers I have in my name?
You can easily check this through the Tafcop portal. We have mentioned a step-by-step tutorial in our article which will help you to identify all numbers issued on your name.