UCO Bank Online HRMS | Staff Login | Pay Slip | Leave Application
Check all details about the HRMS application developed by the UCO bank for its employees. Check all details and important services and benefits in this article.
What is UCO Bank HRMS?
UCO HRMS is a Human Resource Management System developed by the UCO Bank India to provide various employee-related services online through a portal and mobile app.
UCO Bank formerly known as United Commercial Bank is a government-owned bank that comes under the Ministry of Finance, Government of India. It was established in 1943 in Kolkata.
Although most of the govt organizations such as state governments and some central government ministries such as the ministry of water resources are using the ehrms product developed by the National Informatics Center for their employee management.
UCO Bank is not using any standalone HRMS application but focusing on their inbuilt HRMS portal which they think is sufficient for the management of their staff.
Also check, Odisha HRMS all details
Benefits:
UCO HRMS portal provides many benefits which we are listing below.
Its a one-stop solution for all employee-related services and all-important services are provided through a single portal and HRMS UCO app
All important services such as Salary slip download, Leave request, Tax related services are available online for all employees
It provides transparency in the system and all data is accessible by the reporting officers and other higher officials.
Now the processing of availing all services is very fast and turn around time has been reduced by a large margin.
UCO HRMS also helps pensioners and provides the required services related to their pension and Tax details.
All staff members can check the latest announcement made by the senior officials of different departments.
Different types of forms are available to download through the HRMS portal and app.
Employers can now make intelligent decisions related to the performance appraisals by utilizing the available information and data through the HRMS portal.
Also check HRMS Punjab portal details
Summary:
| Particulars | Summary |
| --- | --- |
| Name of the portal | UCO Bank HRMS |
| Developed by | UCO Bank |
| type of the organization | Government-owned |
| Purpose | To provide effective employee management services |
| Beneficiary | All staff and pensioners of UCO Bank |
| Official website | https://hrms.ucoonline.in/ |
| Helpline number | (033)-4455-9752 |
Also check, SBI HRMS all details
How to login?
If you want to take the benefit of all available services of the HRMS UCO Bank then the first step is to log in on the portal. Please check the process given below.
Step #1: Open the official UCO Online HRMS portal
Step #2: You will see a UCO HRMS website homepage and a login form available on the right side (see below image).
Step #3: Fill in the below details in the login form.
Employee Id
Password
The answer to the security question
After filling in the above details click on the Login button. You will be redirected to your employee dashboard page where you can see all available services use can use.
Also check BRDS HRMS all details
Services
After the successful login employees can access their dashboard where all employees specific services are available. Some of the important services are Leave request, Salary slip download, etc.
Recently UCO Bank has introduced some more services in their HRMS portal. It is in line with the objective to make a faster and accurate HR process system.
A regular update is always required to reduce the repetitive tasks, reduce the paperwork, and automating some tasks which ultimately improve the overall efficiency.
New Modules to be implemented In HRMS:
Compassionate Appointment
Retiree Screen for Personnel Details updation of retirees
LFC/LTC Bill Submission
Capturing and Centralised payment of Retiree's leave Encashment amount
Advance for TA / LFC
Lets discuss about these new modules in details.
1- Compassionate Appointment
A Compassionate Appointment module has been provided In HRMS under terminal Benefit' for submission of all required details of the applicant for Compassionate Appointment/ Ex-gratia.
If an employee has been retired on medical grounds then he can submit the details to the bank/ branch. The branch office will submit the details in the Compassionate Appointment module for further process.
Application hard copies and other documents will also be required.
2- Retiree Screen for Personnel Details updation of retirees
Uco bank is using the GBM module to manage pensioner's data and disbursement of the pension.
It is not possible to create a retiree login id in the GBM module.
So UCO bank is looking forward to making a specific Retiree Corner section in the HRMS portal so that staff employee no. can be connected with the pension payment order (PPO) and Retired employees would be able to log in on the HRMS portal.
3- LFC/LTC Bill Submission
LFC/ LTC bill submission facility will also be implemented in the HRMS module so that bill submission can be done online similar to the current facility of TA bills.
4- Capturing and Centralised payment of Retiree's leave Encashment amount
Leave Encashment and Deductions of TDS used to be done through a manual process.
Now the payment part of the leave encashment to retirees will be made online through the HRMS portal and Manual payment by the branches/ zonal offices will be discontinued.
5- Advance for TA / LFC / LTC
Currently, there is a Tour & TA bill Management module in the HRMS system. Now a new module will manage the advances against TA / LFC / LTC.
Now the requests for the traveling allowance, leave fare, travel concessions will be made through the HRMS so that everything can be monitored online.
UCO Online login
If you are a customer of the UCO Bank then you can use the UCO online banking facility to manage all services online. You may log in by following the complete steps given below.
Step #1 – First of all, open the official website
Step #2 – You will see a login form on the homepage (as shown below).
Step #3 – Enter the below-mentioned details in the login form.
Login Id
Password
Captcha code
Step #4 – Finally, click on the Login button.
UCO HRMS E-service Folder
You can see a link to the E-Service Folder on the official website of the HRMS UCO bank. If you click on this link, you will be redirected to a new page.
This E-Service portal is specifically made to manage the joining of new employees through various channels such as IBPS, reference, or through any other exam.
All new joiners will have to register on the E Service folder app and will have to provide their details online.
An official verifier will verify all information and allocate branch to new trainees.
E-service folder login?
Please check the below steps.
Step #1 – Open the official HRMS portal
Step #2 – On the home page click on the E Service Folder link just below the login form (as shown below).
Step #3 – Click on this E-service Folder link. A new E-service Folder page will appear on the computer screen (as shown below)
Step #4 – Now if you are an IBPS selected candidate then select IBPS Candidate/ Compassionate Ground from the Login AS section. A new login form will appear on the same page for the IBPS candidates.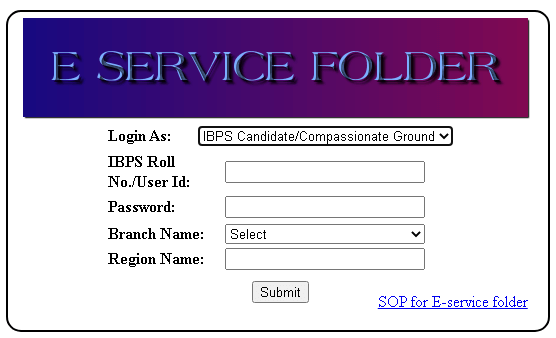 Step #5 – Now login to the portal by providing the below-mentioned information in the login form.
IBPS Roll No. or User Id
Password
Btanch Name
Region Name
Step #6 – After entering all required details click on the Submit button. Candidates will be redirected to a candidates details page (as shown below).
Candidate information in E-service folder
After the successful login candidates will have to fill in all required details in the e-service folder online.
After the login candidates will see four sections mentioned-below.
Personal Details
Educational Detail
Other
Reports
Candidates will have to complete all four sections.
1-Personal details: The personal details section is further divided in four sub-sections.
Personal details
Address detail
Family detail
Nomination detail
2-Educational details: The educational details section is further divided in three sub-sections.
Educational qualification
Professional qualification
Training courses
3-Other details: The other details section is further divided in four sub-sections.
Word experience
Career in bank
Reference detail
Relation employed
4-Reports: In the Report menu you can finally submit the application form.

Important links
Contact details
For any query or concern you may contact the officials through the below-given contact details.
Corporate Head Office:
Head Office-2
Department Of Information Technology
3 & 4 DD Block,Salt Lake
Kolkata-700064
Helpline number: (033)-4455-9752
Email Id: [email protected]
FAQs
Which software is used by UCO bank for banking solution?
UCO Bank uses the core banking solution product FINACLE developed by the Indian MNC Infosys. Finacle is a world-famous core banking solution and used by Banks worldwide. In India, most of the banks are using Finacle.
How to recover UCO HRMS password?
You may recover your HRMS password by following the below-given steps.
Step #1 – Open the official HRMS portal
Step #2 – You will find a login form on the right side of the homepage.
Step #3 – Please enter your employee id in the login form and click on the "Forgot Password" button.
Step #4 – You may be asked to enter the OTP or security code.
Step #5 – After completing all processes you will receive further instructions on mobile.
Can i download salary slip through HRMS?
Yes, all employees of the UCO bank can check all details related to the salary and download the payslip also from the official HRMS portal.
Also check details about the Intra Haryana employee portal