Check all the latest details about the Ikea VISA and Projekt Credit Card in this article. How to apply for a Credit Card online? What are the differences between an Ikea ViISA and Projekt Credit Card?
What are some of the important benefits of each Credit Card? How to manage the online account and pay Ikea Card bill online? Check all the latest updates and other relevant information in this article.
Ikea Group
Ikea is a home furnishing retail chain that operates worldwide and sells home furnishing products through its online website and retail stores. Starting in 1939 Ikea now operates in 50+ countries and sells its products under different brands.
Inter IKEA Systems B.V. is the key company that manages the IKEA franchise business worldwide and manages other Ikea retail businesses in different geographies under its franchise business.
Ikea Credit Cards
As Ikea operates worldwide so there may be different Credit Card offerings by different banks. In the United States Ikea has a Partnership with the Comenity Bank and offers two credit cards to its customers.
IKEA Visa credit card
IKEA Projekt credit card
Ikea Visa Credit Card: This Credit Card is available for all customers for day-to-day purchases and offers great rewards opportunities if customers make a purchase through an online website https://www.ikea.com/us/en/ or retail store.
Salient features:
Enjoy Ikea rewards opportunity on every purchase.
No annual fee and zero fraud liability
Ikea Visa Credit Crd can be used anywhere and offers 5% rewards if used at Ikea website or stores, 2% rewards on dining, grocery, and utility purchases and 1% rewards everywhere else.
If you sepnt Z$500 or more outside Ikea within first 90 days you will get $25 bonus reawrds points.
Get $25 off on first Ikea purchases at store or online website.
Automatic enrollment in the IKEA Family loyalty program.
Ikea Projekt Credit Card: This card is helpful for large purchase amounts where you will get the benefits to pay the payment in installments without any interest charges.
Customers can pay the total payment in 6, 12, or 24 months as per the below criteria.
| Purchase amount | 0% interest Duration |
| --- | --- |
| $500 or more | 6 months |
| $1500 or more | 12 months |
| $5000 or more | 24 months |
Except for the above split and pay facility, customers will also get the other benefits such as no annual fee and zero liability on the card in case of any fraud.
Note: Projekt Credit Card can be used at IKEA stores in the United States and IKEA.com/us/en website only.
Ikea Credit Card login
All existing members can manage their online accounts after login into the official website and accessing the different services available there.
Customers can pay their Credit Card bill, check account summary, apply for an automatic payment facility, and set their card alerts online.
To access all of the above services customers can log in online with the help of the below steps.
Ikea Credit Card login process:
Total Time: 5 minutes
Open the official website

First of all, you will have to visit the official Ikea US website www.ikea.com/us/en/.

Open the Ikea Comenity Credit Card Management page

On the official website, move down the homepage and click the IKEA Credit Card Management link located at the footer.

Select your Credit Card

On the next page, you will see the link to both cards. Now click the Credit Card link which you want to manage online.

Ikea Visa Credit Card login

If you click the Visa Credit Card link then you will see the account management page for this card. Now click the Sign In link below the menu. A login screen will appear on the same page.

Enter your username and password and click the Sign in button to log in to your account.

Ikea Projekt Credit Card login

If you click the Projekt Credit Card link then an account management page will appear on the next screen.
You may log in by clicking the Sign In button and entering your username and password in the login form.
Also check,
How to apply for a new Credit Card?
The application process for a new Credit Card is very easy which can be completed through the official website. We are sharing the steps for the online application process. Please have a look.
Step 1: First of all you will have to open the online application page. You can reach there in two ways.
i-Through the Comenity Bank bank page:
Open the Credit Card selection page and click the Credit Card you want to apply for.
On the next page, click the Apply link to start the online application process.
ii-Through the Ikea official website:
Step 2: After opening the application form you may follow the below process.
i-Ikea Visa Credit Card application form:
You will see an online application form as shown below.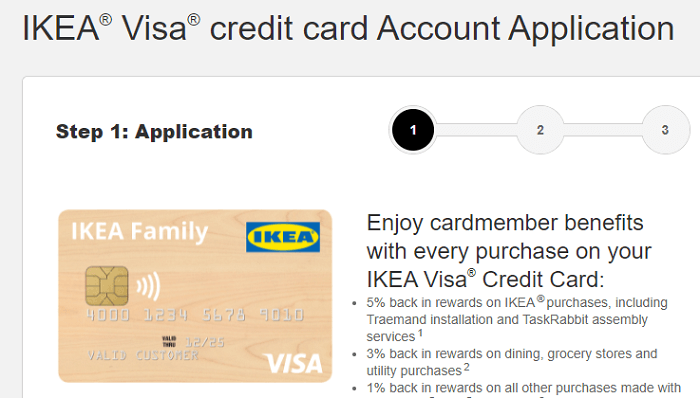 You will have to complete all three steps of this online application form. After filling in all the required details submit this application form.
i-Ikea Projekt Credit Card application form:
You will see an online application form as shown below.
Fill the application form according to the instructions available and submit it. Please fill in all details carefully and finish all three steps in order for the successful submission of the Credit Card application.
Step 3: After the submission of the Credit Card application form, if approved you will receive your credit card within 15 business days.
Important links:
Customer Service
A dedicated customer support service is available for both Credit Cards. If you are facing any kind of issues or looking for the solution of any query then you may contact at the below-mentioned customer support Phone Numbers.
| | |
| --- | --- |
| IKEA Visa Credit Card | 1-866-387-6145 |
| IKEA Visa Signature Credit Card | 1-866-518-3990 (TDD/TTY: 1-888-819-1918) |
| IKEA Projekt Credit Card | 1-866-337-5539 (TDD/TTY: 1-888-819-1918) |
Ikea Credit Card Payment
Now enjoy the easy and convenient facilities to pay your Credit Card bill online. All credit card members can use the Comenity EasyPay facility also to pay their credit card bill.
1-Pay through an online account: Just login into your online account and complete the bill payment by navigating to the Payments tab.
2-Pay through Comenity's EasyPay: Customers can also use the EasyPay facility by Comenity bank which is very helpful and you don't have to login anywhere to pay your bill. Just provide your account information and pay your card bill easily. The EasyPay link is available below.
Also check,
Ikea Credit Card Reviews
---
Share your rating and opinions about this credit card:
---
Overall rating:
4 out of 5 stars (based on 1 review)
---
Nice features
Overall a good package having some nice features