Bhu Naksha Chhattisgarh | View CG village land map online | bhunaksha.cg.nic.in
Check all the latest details about how to view and download the village land map in the Chhattisgarh state. How to check the land ownership information and how to find the plot size and other important information.
In this article, you will find all information and steps to view any plot map online. So please stay with us and read this article completely so that you will get the latest procedure to view the land map along with other important details.
What is Bhu Naksha Chhatisgarh portal?
Bhu Naksha Chhattisgarh is an online portal developed by the National Informatics center to provide a digitized online map of the plot of all villages in the state. With the help of this online portal, all citizens can find the owner, area, khasra details of any plot.
There are many instances where people want to check the real owner of any land. For example, if you want to invest in any property then you definitely want to make sure who owns that land legally or if there is any legal issue with that land. Chhattisgarh Bhu Naksha solves all problems by providing all important information that will help you to take a good decision related to purchasing any property in the state.
Highlights
| Particulars | Summary |
| --- | --- |
| Portal name | Bhu Naksha Chhattisgarh |
| Type of portal | Cadastral map solution |
| Developed by | NIC Chhattisgarh |
| Beneficiary | All citizens of Chhattisgarh state |
| Purpose | To provide all plot info to everyone |
| Launch date | 18-Oct-2019 |
| Official website | bhunaksha.cg.nic.in |
Also check,
The information available through the portal:
People can find the below-mentioned information with the help of this portal.
Landowner name
Father's name
Khasra number
Plot size/ area
irrigated area
non-irrigated area
How to view a land map in Chattisgarh state?
If you want to check the plot information in Chhattisgarh state then you can use this portal to view all important information associated with any plot. Please check the step-by-step process given below.
1-Open the official website
First of all, you will have to open the official website to view any map. For that, you may simply click the bhunaksha.cg.nic.in to open the official portal in a new window. You will see a search form on the left side of the home page.
2-Select your village
Now you will have to select your village from the options available on the left side of the home page. Select your District, Tehsil, RI, and Village.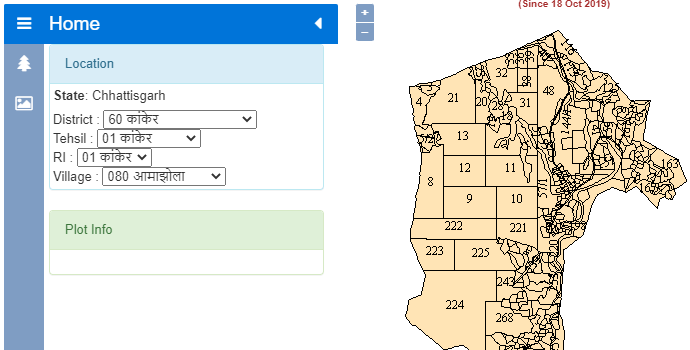 After selecting your village you will see a village map on the right side of the page (as shown above).
3-Click the plot number
As you can see that there are many plots available on this village map. Now you can click the plot number for which you want to check all information.
4-Check the plot info
You can check plot info by clicking on any plot number on the map. As you can see in the above map image, we have clicked map no 28 and all information is available on the left side. Now you can easily view the below-mentioned information.
Owner name
Khasra number
Father's name,
Land area, etc
Note: All the information related to any land available on this portal are just for informational purpose. You can not use this information for any legal purpose.
5-Check Khasra details
You will see a Khasra detail link on the left side. If you click on this link then you will be redirected to the Chhattisgarh land records – Bhuiyan portal where you can find the Khasra details of any land. On this page select your district, Tehsil, or village. After that enter the Khasra number in the given space and click the search button. All the information will be available on your device screen.