HRMS Punjab | ehrms login | IHRMS leave application
Check all details about the ihrms punjab portal on this page. We will share all important details such as how to submit a leave application, how to login, etc. Please read this post completely to get all details.
What is HRMS Punjab?
HRMS Punjab is a customized version of the ehrms portal specifically designed according to the requirements of the government employees of Punjab state to provide a best Human Resource Management System
National Informatics Center has modified the eHRMS Manav Sampada product and includes some special functionality while keeping the Punjab government's specific requirements in mind
HRMS is designed in a way so that it can provide easily accessible, fast, and transparent services such as employee record, salary, GPF, GIS, Leave, Income tax information, property returns, annual confidential progress, Posting, promotion, arrears management, etc.
Benefits:
HRMS is a one-stop solution for employees personnel management where all services are provided through a single portal
It provides real-time information and important data from all different departments
All government employees and data entry operators can access the well-formatted MIS reports
It helps in intelligent decision-making for the appraisal, transfer, promotion, etc by using the employee's service book and feedback's from all stakeholders.
Now there is no need to visit the different offices for the important services such as leave, loan, etc. All employees can apply for most of the services by using their computer or smartphone.
Summary:
| Particulars | Summary |
| --- | --- |
| Name of the portal | Integrated Human Resource Management System, Punjab |
| Short form | IHRMS Punjab |
| Also known as | HRMS Punjab |
| Developed by | National Informatics Center, Punjab |
| Beneficiary | Government employees of Punjab |
| Original product | EHRMS Manav Sampada |
| Helpline Number | 0172-2663812, 2660126, 2663813, 2664696 |
| Official website | https://hrms.punjab.gov.in/ |
Also check HRMS Odisha employee portal
IHRMS Punjab services
Employee Related
View Property Return
View eService Book
Send Feedback
Dashboard
Department Related
Data Entry Status Report
Search Orders
Register For Web API
Recruitment – Apply Online
Also check HRMS SBI portal all details
How to login to the EHrms Punjab portal?
Login process is very straight forward. Please check the steps given below.
Open the official website hrms.punjab.gov.in
You will find the Login link on the top right side of the website. Click on this link.
A new page will appear on the screen including a login form
Enter your user id, password, captcha code, and click on the login button.
After the successful login, you can see your employee dashboard and use all services offered by the portal.
How to find ihrms employee code?
If you don't remember your ihrms employee code then there is a facility on the portal to search your employee code. Please check the below-given details.
Open the official HRMS portal
Now click on the "Get iHRMS Code" on the right side of the top menu.
A new page will appear on the computer screen.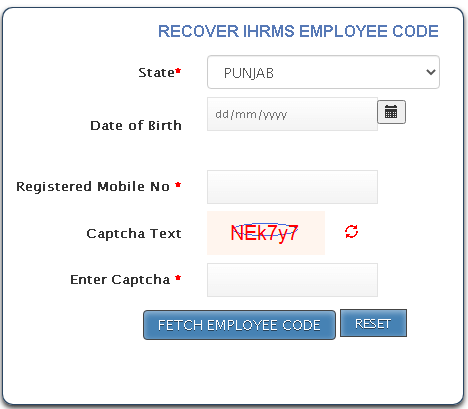 Now on this page enter below details

Select Punjab state
Select your date of birth
Enter registered mobile number
Enter given security code

Finally, click on the "Fetch Employee code" link
Also find UCO HRMS all details
How to download ehrms Punjab mobile app?
Punjab NIC has also developed an android app for the employees. Through this app all employees can perform various tasks such as apply for leave, loan, etc.
You can download the HRMS Punjab mobile app by following the below steps:
Open the official website in your mobile browser.
On the home page, there are three links just below the top menu

iHRMS Punjab Youtube channel
iHRMS Punjab Facebook page
iHRMS Punjab Mobile App

Click on the Mobile app link. A google play store mobile app page will appear on the screen (as shown below)
Click on the Install link to download this app in your smartphone.
After downloading the mobile app you can perform all activities similar to online portal.
Mobile app main menu:
Mobile app salary related services:
Mobile app leave related services:
Also read BRDS HRMS full details
HRMS Punjab employee dashboard
After the login all employees can see their dashboard where they can access various employee related services online.
On the employee dashboard employee can check the details such as:
Department name
Name of the employee
Post
Job location
e-profile
My Services
Notification detail
Under the My Services tab you will find the below mentioned services employees can use.
My Payroll services:
Income tax change request
Employee Loan status
GPF subscription change request
GIS Lodger
Annual Salary statement
Pay Slip
Income tax calculation sheet tentative
GPF reports
Declare saving under section 80C
My Leave services:
Apply online leave
Apply LTC approval
Process leave request of subordinates
Leave joining report
Apply station leave
Leave conversion request
Leave ledger
Leave during the period
Print leave order
My profile:
How to apply for leave online?
To apply for a leave you can check the below given step-by-step process.
Open the official portal and use your id and password to log in.
After the login navigate to My services > My leave services > Apply online leave
After clicking the Apply online leave link you will be redirected to a new page having two sections:
Apply Leave: You can apply for a new leave in the Apply Leave section.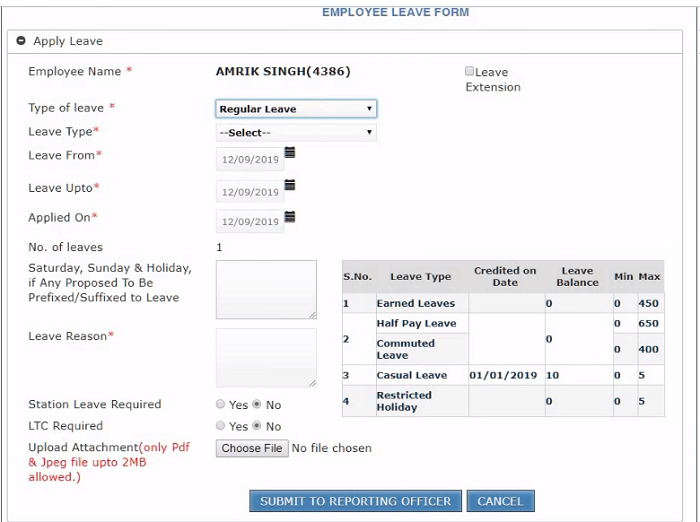 On this page, you can see your leave balance such as how many Earned leaves, Half pay leave, Casual leave, Restricted holiday leave you currently have.
Complete this leave application form by providing all necessary information such as:

Type of leave
Leave duration
Leave reason

After that click on the "Submit to reporting Officer" link.
Applied Leave: In the Applied leave section you can find details about the all leave you have already applied. You can check the status of the leave if it has been verified or not.
How to download Salary slip?
You can download your pay slip by following the below-given steps.
Open the official website and log in by using your user id and password
You will see your employee dashboard. Now navigate to My services > My Payroll services > Pay Slip
After selecting the Pay Slip option you will be redirected to the payslip page (as shown below).
Now select Month and Year from the calendar and click on the View Report button.
You will see the salary slip of the selected month (as shown below).
You can see all details in your salary slip such as basic salary, allowances, and deductions,etc.
How to declare savings for Tax calculations?
If you have invested in government schemes and want to take the benefits by reducing your income tax amount then you can check the below process to declare your savings. Employees can declare their savings under section 80C.
Some popular government schemes such as Public Provident Fund (PPF), Sukanya Samriddhi Yojana, Senior Citizen Saving Scheme, National Savings Certificate, etc comes under section 80C.
Open the official website
Now on the employee dashboard page navigate to the My Services > My Payroll services > Declare saving under section 80C
You will be redirected to a new page where you will have to choose the financial year for which you want to save on Income Tax calculation.
Another page will appear on the screen (as shown below).
Now enter the amount you have invested in the given schemes.

House Loan
HBA Principal
LIC
PLI
CTD
NSC/ NSS
Tuition Fees
Interest on reinvested NSC
Bonds (If any)
Pension funds
Sukanya Samriddhi Yojana, etc.

After filling in all necessary information click on the "Submit to DDO for Approval"
Your request has been submitted successfully and will be verified.
Important link
FAQs
What if i am getting any technical issue?
For any kind of help related to the HRMS portal, you may contact the
Helpline number: 0172-2663812, 2660126, 2663813, 2664696 (9 AM to 5 PM on working days) and
Email Id: [email protected]
What services available in mobile app ihrms?
The mobile app has been made exclusively for the employees. In mobile app most of the important services are available. Some available services are given below.
Service Book
Salary
GPF
GIS
Leave
Loan and advance
Employee services
Phone directory
Birthdays
Official holidays
Notification
How will i get the latest notification?
You can find latest news and notification on the home page. Just open the official website and you will find two sections on the home page.
Notification
Latest News
You can check the latest announcement made by the senior officials.